Anita Holmes, a writer, editor, and photographer, is the principal and
sole proprietor of Holmes Creative Services.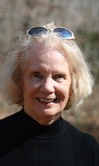 "Before completing my college education," Anita Holmes relates, "I held all sorts of jobs––sales clerk, department store gift wrapper, keypunch operator (boy that was fun!), secretary, and photo technician, to name a few. Possibly my most unusual job was working as a clerk-typist/receptionist for the U.S. Army Corps of Engineers at White Sands Missile Range, New Mexico. Our office was smack dab in the middle of the Nike Zeus testing range. Periodically a missile roared off into the sky, having been launched from a silo just a mile from our field office. The sound was deafening. I used to get a kick out of driving VIPs out on the range to look down the shaft at the menacing missile below."
After receiving a B.A. from Cal State L.A., Anita's professional career in publishing 
took off, and she has been involved in editorial and photographic work ever since. The years have been about equally divided between working as an independent contractor and holding 
staff positions. 
Work History
Following is a list of Anita Holmes's past editorial staff positions:
Senior Editor
MILLBROOK PRESS, Brookfield, CT
Assistant Director of Education Services                                                             
CONSUMERS UNION, Yonkers, NY                       
Editor, Elementary Division 
SCHOLASTIC, INC., New York, NY 
Editor, Office Supervisors Bulletin 
PRENTICE HALL, INC., New York, NY
Production Editor, Training Department 
BANK OF AMERICA, San Francisco, CA
For a brief biography of Anita Holmes, click here.


Professional Memberships, Past and Present



American Management Association (contributing writer, newsletter)

Author's Guild, Inc.

Editorial Freelancers Association (EFA)

EdPress

International Reading Association

League of American Pen Women, Inc.

National Arts Club, New York, NY

National Council for the Social Studies (NCSS)

National Council for Teachers of English (NCTE)

National Science Teachers Association (NSTA)

Norfolk Artists & Friends

San Francisco Advertising Club (contributing writer, newsletter)

Winsted Health Center Foundation, Winsted, CT (past president, board member, newsletter editor, fund-raiser, and events planner)
Other Memberships, Past and Present



Norfolk Battell Arts Foundation

Norfolk Community Associates

Norfolk Committee for Sound Growth (CSG) (board of trustees)

Norfolk Country Club 

Norfolk Democratic Town Committee (congressional liaison) 

Norfolk Historical Society

Norfolk Land Trust

Norfolk Library (board of trustees)
Back to Home.